Webinar "The Present and the Future of the Autonomous Administration of North and East Syria Amid Growing Instability and Challenges"
Date of publication: August 9, 2021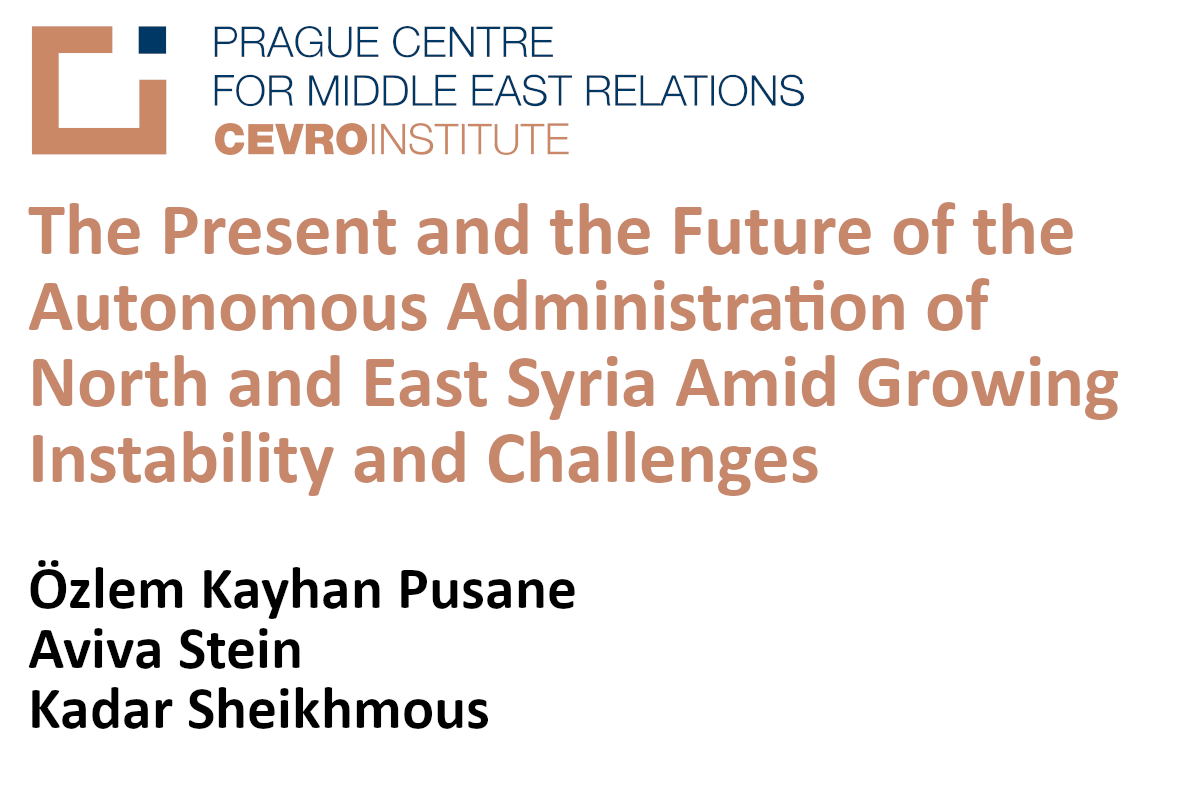 Prague Centre for Middle East Relations (PCMR) of CEVRO Institute organized a webinar "The Present and the Future of the Autonomous Administration of North and East Syria Amid Growing Instability and Challenges." The event was held online on Thursday, June 24, 2021. Our distinguished guests were: 
Özlem Kayhan Pusane, Associate Professor of International Relations at Isik University in Turkey.
Aviva Stein, Co-Founder, Strategy and Development Consultant at Catalystas Consulting, Netherlands.
Kadar Sheikhmous, Executive Director of Shar for Development. 
The session discussed recent political and security developments in the Kurdish-led Autonomous Administration in Northeast Syria. Speakers analysed political and security situation, governance and numerous challenges the area faces, may it be comparing different contexts of Arab-majority and Kurdish-majority areas as well as facing internal, and external security and political constraints. We also touched upon the role of both internal and external players in Northeast with a special focus on Turkish policies and concerns.
The webinar was moderated by Tomáš Kaválek, Director of PCMR.
Özlem Kayhan Pusane is currently an Associate Professor of International Relations at Isik University (Istanbul, Turkey). She graduated from the Middle East Technical University (Ankara, Turkey) in 2002 with a B.Sc. degree in International Relations. She received her M.A. degree in Political Science from the University of Notre Dame (Indiana, USA) in 2004, where she also received her Ph.D. degree in Political Science in 2009. Özlem's broader research and teaching interests lie in the areas of security studies, civil-military relations, counterinsurgency, counterterrorism, and Turkey's security and foreign policy.
Aviva Stein is an international development consultant with a focus on good governance and peacebuilding. With a Master of Arts in Conflict Studies and Human Rights from Utrecht University, she has focused her professional trajectory on examining the intersection of conflict prevention and resolution, non-state actors, international humanitarian laws and norms, and gender issues, particularly in the MENA region. She has worked with a wide variety of international actors, including providing support to the UN-OPCW Joint Mission to Syria, designing and implementing NGO projects, developing reports for NGOs, and conducting scoping missions and program evaluations. Aviva has also gained extensive experience relating to the Syrian Crisis and the Kurdish Question, having visited various parts of North Syria and worked directly with multiple civil society organizations and local political parties, including the multiethnic Autonomous Administration, Kurdish Democratic Union Party (PYD), Syriac Union Party, and Kurdish National Congress (KNK). She has designed and implemented development and capacity building programs on diplomacy, empowerment, international norms and protocols, good governance practices, and countering violent extremism for a diverse portfolio of clients, including NGOs, diplomatic missions, universities, and governments.
Kadar Sheikhmous is Executive director of "Shar for Development" which focuses on enhancing civil society, governance & economic development in North East Syria in general and Kurdish regions in particular. He is from Qamishli, Syria. Kadar has a long family & personal history of activism within Kurdish cultural&political movements. In March 2011 Kadar participated on Syrian uprising through mobilization at Aleppo university and nationwide. Later, he was forced to stay outside Syria after photos were released showing him with foreign officials as he attended 2012 Rising Stars program in Bosnia and 2013 Rising Stars program in Prague, Czech Republic. He was also selected to participate at the US State Dept IVLP program for youth political leadership in 2014.