Roundtable with Ron Schleifer "Israeli Experience with Psychological Operations: Lessons Learned (and Not Learned)"
Date of publication: June 14, 2023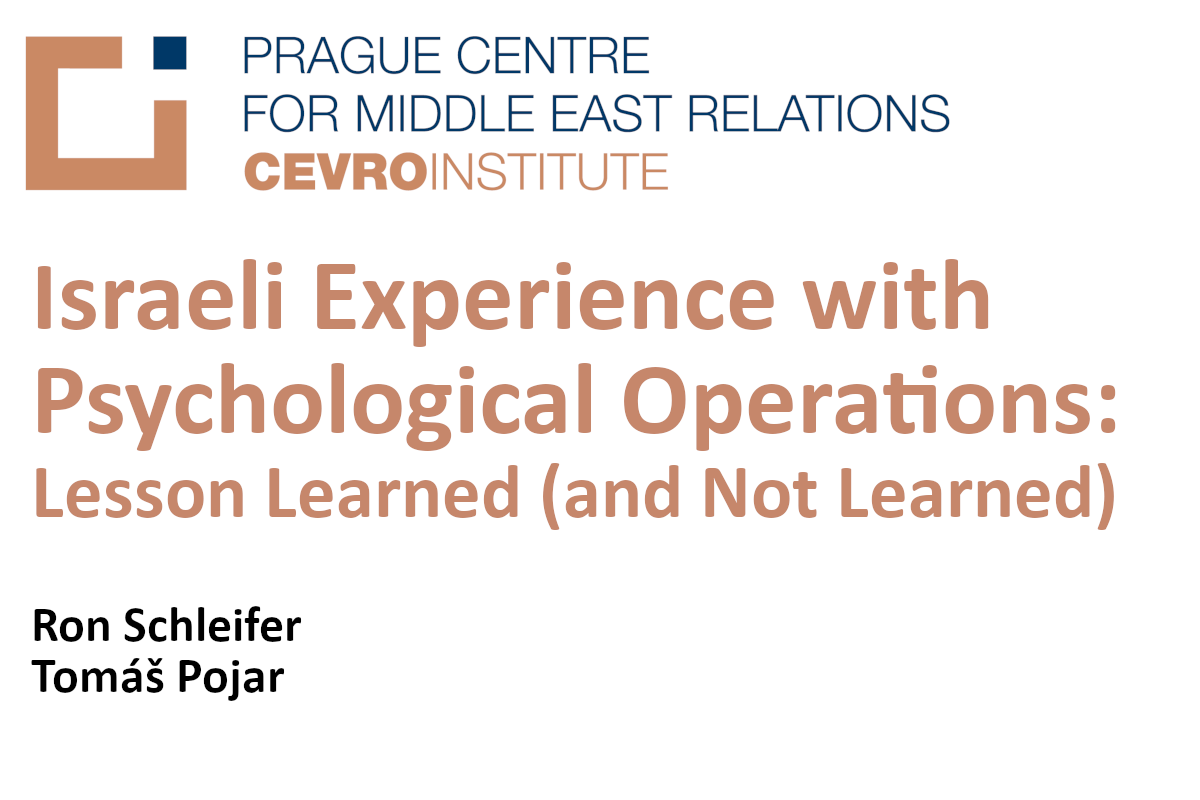 Prague Centre for Middle East Relations (PCMR) of CEVRO Institute organized a closed roundtable "Israeli Experience with Psychological Operations: Lessons Learned (and Not Learned)." Our distinguished guest was Dr. Ron Schleifer, Israeli expert on psychological warfare and and military-media relations. The event was held on June 13, 2023 at CEVRO Institute.
The debate was moderated by Tomáš Pojar, National Security Adviser to the Prime Minister of the Czech Republic.
The event was held under the Chatham House Rules.
Ron Schleifer's Bio
Dr. Ron Schleifer is an Israeli expert on information/psychological warfare and military-media relations. Over the course of his long career, he has been involved in both the Israel Defense Forces (IDF) and the academic arena, in Israel and abroad. Schleifer's primary fields of research include information/psychological warfare (PSYOP), global communications, deception, cyber-warfare, military-media interface, and national security. He is a senior lecturer at Ariel University's School of Communications.
Schleifer continues to research the Israeli military establishment and other defense organizations through focused analysis of communications development. His theoretical experience is based on years of lecturing at the IDF Tactical Command College (MALTAK), as well as its Senior Command course (PUM).
Working with both Israeli and foreign media outlets, Schleifer is a regular commentator on information warfare issues. In 2010, he won the Haikin Award for best book on strategy, Psychological Warfare (in Hebrew), at Haifa University. He is active in several professional societies, such as the Association for the Study of the Middle East and Africa (ASMEA). He founded the Moldovan best book prize on defense issues in Israel. His recent book on PSYOP in the Arab-Israeli conflict was published by Palgrave Macmillan and his forthcoming book deals with PSYOP in the age of the social media and the digital age.